Play Now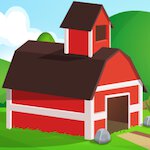 In Farmington, take a step into a wonderful farming life away from all the trouble of your daily life! Manage your own farm by planting some wheat, feeding the farm animals to collect their products. Who wouldn't want to have calming time for a while, at least? If you agree with us, then start the game now and enjoy your new life!
Taking care of a farm can be tiring, but thanks to the new technology, you can handle all the works with one click now! In this fun strategy game, you are responsible for a huge area where you can grow animals and plant various seeds. Your objective is to develop your farm as much as possible and unlock more features while passing the levels. You can follow the tutorial to manage your business during the game. But to satisfy some of your curiosity, you have an orders button at the left of the game screen where you can check your quests to be completed. Start with creating plots by clicking on the sale signs to grow your animals or plant your seeds. Then collect your products in the barn for selling them later to earn coins. You should also produce new products with your collected ones in the refinery. Every product has a goal to serve either to create new types of items like feeding the animals or to sell to increase your earnings. Good luck!
Be sure to check our collection of free and online strategy games to enjoy other management including fun titles like this one.
Developer
Kizi developed this game.
Release Date
July 13, 2017
Features
2D colorful graphics
Quests to complete
Multiple levels to reach
Managing farm works
Controls
You can use your mouse to play this game.