Play Now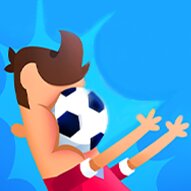 Being a cold-blooded murderer living in puzzles is not an easy job but thanks to Football Killer we get to experiment and get better at it! Starting by simply aiming at your victims, stuff gets stirred up real fast, and you find yourself calculating how far and fast your ball must go to hit the blue button at the right moment. Dress up as a ballet with a horse head and join the match because looking fabulous while things get bloody is a must.
Football is a game of passion, but how far can you take things to win a game? Our guy knows since he is sending goals over the cold bodies of other players. With the little additions to the puzzles, at some point you will find yourself hanging upside down from the ceiling, throwing bombs at your opponents with endless enthusiasm for sports. When directly hitting your victims with a ball is not satisfying enough, you can open modes and push buttons to make fellow moles kill them. Watch out for enemy healers and kill them first. Collect gold by killing players in the most efficient ways and unlock more fun skins. You are the only one who is safe on this field, so this massacre gives a feeling of an experiment.
If you like this game, you can play more puzzle games by clicking here.
Developer
Simplicity Games developed Football Killer.
Release Date
January 31, 2022
Features
Colorful 2D graphics
Cute and funny character design
Addictive puzzles
Easy to play
Controls
You can use your mouse to aim and shoot.