Play Now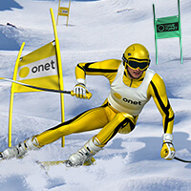 In GP Ski Slalom, join us and enjoy a snowy and exciting winter vacation in the mountains. There are a lot of fun winter activities that you can do here and today, we're going skiing! Now, get ready to suit up for the hill, and let's see if you are good at this sport. Do you think you can complete all the levels in this fun game?
When adventure calls, you have to set out! And today, our destination is the mountains. The view is awesome, and this place really looks like a winter wonderland. But we should make things a bit more interesting, right? Put on your snow boots and ski goggles cause it's time to ski! Your objective is to complete all the levels and reach the finish line before the timer ends. Let's start with choosing a character first. You can choose a woman or a man but if you want to bring the holiday spirit to this vacation, you can choose to play as Santa! This journey will not be easy since there are a lot of obstacles waiting for you on the road. You can use the left and right arrow keys to move your character. Try not to hit any obstacles on the road or you'll start from the beginning again. You also need to reach the finish line before the timer ends. Try to collect all the cookies for a sweet speed boost. Have fun!
Check out our collection of online Christmas games to get in the holiday spirit. Enjoy!
Developer
Code This Lab developed GP Sky Slalom.
Release Date
December 17, 2020
Features
12 levels to complete
Entertaining and challenging gameplay
3 characters to choose from
Intuitive controls
Controls
Use the left arrow key to move left and the right arrow key to move right.