Play Now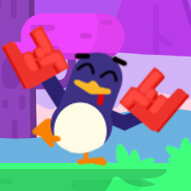 Golf Bounce invites you to test your golfing skills in the most fun way possible! Rather than using a golf ball, you'll have a penguin this time! What can be more fun than that? You don't even need to go out either. Because we have organized various golf fields for you to enjoy your game. If you are ready, let's jump into this adventure. Shall we?
Are you up for kicking some penguin with your golf bat? Sounds savage to you? Not at all! The penguins cannot fly normally but this one can! In this fun ball game, your objective is to use the penguin as your ball and make sure it gets in the hole. But this is not gonna be easy! Because as you proceed in the game, the difficulty level increases as well. You will face various obstacles and traps on the way. You have 3 lives that you can track from the left top of the game screen. Use them wisely! If not, you have to restart from your current level. Collect the diamonds and the gems to upgrade your penguin's speed, power, bounce, and launch stats! You can also purchase new golf bats to add more fun to the game. Good luck now and have lots of fun playing!
Our penguins are not only famous for their sports skills! If you want to try another game with a penguin hero in it, then be sure to check Penguin Diner.
Developer
kiz10.com developed this game.
Release Date
June 25, 2020
Features
2D colorful graphics
30 levels to complete
Various stats to upgrade
Different bat options to unlock
Controls
You can use your mouse to play this game.