Play Now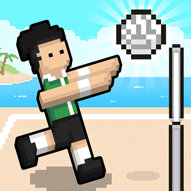 In Volley Random, get ready to hit the volleyball court. This volleyball match will be nothing like you have ever experienced before. Just go get your friend and start this fun experience right now! Are you ready to challenge your friend and see who the best volleyball player is?
Volleyball is one of the most popular sports. It's time to test your skills in this sport and see if you have what it takes to defeat your opponent, that is, your friend! Featuring 2 player game option, this game brings all the fun. You can also choose to play against the computer. Your objective is simple. Score 5 points by grounding a ball on your opponent's court. The objective may be the same, but the controls are definitely not! Here, the players can only jump. You have to send the ball over the net by jumping at the right time. You'll get to see a new location each time a team scores a point. The ball will also change with the location! You'll get to play volleyball with basketball, football, and even snowball. Are you ready to challenge yourself and your friends in this awesome sports game?
If you enjoyed playing this game, then you should definitely check out its friend, Soccer Random by clicking here. Have fun!
Developer
RHM Interactive developed Volley Random.
Release Date
February 22, 2021
Features
Pixelated graphics
2 player gameplay option
Many different locations to see
Different ball types to use
Controls
To control player one, press the up arrow key. To control player 2, press W.