Shaun the Sheep Baahmy Golf
Play Now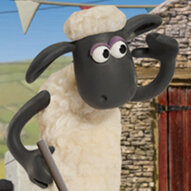 Shaun the Sheep Baahmy Golf invites you to show off your golf skills, if there is any, though! It is a little bit different from the golf rules you are used to but has the same fun in it, for sure. Also, playing is much easier than the original because you don't even need to go out. Use your SPACE BAR or mouse and enjoy the shots from your house now!
Shaun the sheep loves this sport more than anything. That's why he created his own game field in the middle of the farm and set his own rules by using the items around. Don't worry about learning all rules! You can watch the tutorial given at the beginning of the game to see the point distribution. In this fun skill game, your objective is quite simple. You are gonna challenge your own eye and hand coordination skills by using a little bit of strategy to get a higher score each time, every round. You have 5 shots to use per round and each object you hit earns you different points. Use the SPACE BAR or left-click to set the angle and the power. Then let the ball flies in the air! The points are added after 5 shots and given to you like the score table at the end of the round. Good luck and hit the legs!
If you want to try another game in which we need your super skills again, then you should be checking Rodeo Stampede.
Developer
Agame developed Shaun the Sheep Baahmy Golf.
Release Date
March 9, 2021
Features
3D high-quality colorful graphics
Farm setting to enjoy
Simple controls
Entertaining and engaging gameplay
Controls
You can use your mouse or SPACE BR to play this game.