Play Now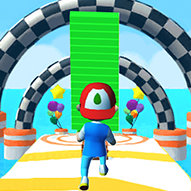 In Shortcut Run, it's time to run as fast as you can! Race against your opponents and stack up all the floorboards you can pick along the way! Do you think you are fast enough to beat them? Let's jump in the game and see! Have fun!
Have you ever dreamed of running on the ocean? Running on a platform could be one of the funniest activities, but to do this with the floorboards on your hand can be a little challenging! But still, you have that talent, my friend! You can beat your opponents and finish the race first. Are you ready to start and see the truth? Then start the game now! Your objective in this game is to reach the final platform with the help of the floorboards you pick up on your way and jump as far as you can when you reach there. You will use the boards to create a shortcut between platforms. To control your character, all you need to do is to use your mouse and swipe left and right. Be careful! If you fall down to the ocean, you fail! If you can collect the board that is gonna be useful, you can get to the finish line before anyone else. as you proceed with the game and pass the first levels, the game will be getting harder. You will face the enemies! You can even be offered a secret job in this game!
Check out our collection of online racing games and discover new games like this one. Enjoy!
Developer
YAD.com developed Shortcut Run.
Release Date
January 13, 2021
Features
3D graphics
Single player online game
Challenging gameplay
Various levels to pass
Controls
You can use your mouse to play this game.