Play Now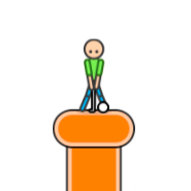 In Extreme Golf, its time to show off your golf skills to everybody! Your character is a member of a very famous gold club in the town. And today is a big day for him. He will be graded by the community! Can you help him show them his talent? Good luck!
Golf is the best sports options for ones who want to do relaxing and fun sports activity. But this game will be a little exciting and challenging! This is why you are here to help him. In this fun game, your objective seems simple, but you need to focus well. All you need to do is touch the screen by using your mouse, hold, and release to shoot when the right moment comes. It actually quite resembles the real golf game. You just need to do an approach shot to put in the hole the ball and get the highest score possible. Each shot is equal to 1 point. Be careful! The hole will appear in different spots on the field, try to aim really carefully! To control your character and shoot, you need to click on the screen and hold the left mouse button to load the power bar. You can see the bar on the left side of the screen. The more you load the bar, the further the ball goes. So, try to release the mouse at the right time. You will have 8 claims each time! Good luck and have fun!
If you want to play more sports games, and try another one similar to Extreme Golf, then be sure to check Microgolf, too.
Developer
QkyGames developed Extreme Golf.
Release Date
January 5, 2021
Features
Amazing 2D graphics
Challenging game
Intuitive controls
No levels to pass
Controls
You can use your mouse to play this game.