Play Now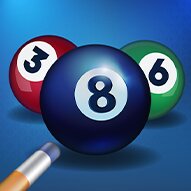 It's time to play billiards in the comfort of your own home in Pool Mania! You can use this game to improve your abilities and reach your goal of becoming a great player! Take your cue and prepare to compete in this game against the computer! How far do you think you'll be able to go? Best of luck to you!
Billiards has a long and rich history, as you may know. King and commoners, presidents, mental patients, women, gentlemen, and hustlers have all participated in the game. In the 15th century, it was derived from a croquet-like lawn game that was popular in Northern Europe and possibly France. Normally, playing billiards at home is difficult, but now you can do so in the comfort of your own house with this version! This one-of-a-kind pool game will put your mind and abilities to the test. Collect stars to gain access to stronger cues, which will allow you to progress to more difficult levels. Play pool, go through the levels and gather all of the different cues. Use your knowledge and talent to complete the levels, but keep in mind that they will become harder as the game progresses. To shoot the cue ball, first, aim it with your mouse, then hold and drag it. Good luck and enjoy yourself!
Do you want to play more games like this one? If so, take the different challenges in our collection of free and online sports games.
Developer
Inlogic Software developed Pool Mania.
Release Date
August 24, 2021
Features
2D colorful graphics
Various levels to complete
Challenging gameplay
Intuitive controls
Controls
You can use your mouse to play this game.