Play Now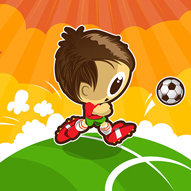 In Football.io, show your skills as a football player by overcoming challenges on the green field. Wear your jersey, tie your shoes, and get ready to run around. Featuring multiple challenging and fun levels to complete, do you have what it takes to prove your skills in this addictive game?
Expect no rival team player on the field, because you're your biggest opponent in this game. Your objective is fun and simple. All you try to do is to pass each level by collecting the required amount of yellow balls. Start the game by clicking on the play button on the main menu. On the left side of the screen, you can see how many yellow balls you need to collect to pass the level. On each level, you'll also see white balls rolling around. Avoid these, as touching them will hurt you. You can track your health from the bottom left side of the screen. When you collect a ball, you should collect the next in a short time, and you can see the time meter at the bottom of the screen. Keep your eyes on the field as you can see power-up tokens represented as question marks. From extra health to speed boost, there are many different power-ups that you can use. Good luck and have fun!
Feeling active? Then why don't you check our collection of free and online sports game by clicking here! Enjoy!
Developer
Inlogic Software developed Football.io.
Features
Colorful 2D graphics
Entertaining and addictive gameplay
Intuitive controls
Multiple levels to complete
Different power-ups to collect
Controls
You can use the arrow keys to move around.