Play Now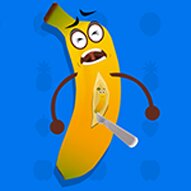 It is time to be a Fruit Doctor! There is an emergency situation about the fruits! This town's fruits are constantly getting ill. They need someone who can help them, someone like you. However, their difficulties are not always simple. You may need to do operations such as removing parasites from their interior on occasion. However, we are confident that you will do everything possible to save them all! Let's show everyone that they are now in good hands! Good luck!
From now on, you'll have a new profession! You take on the role of a fruit doctor, saving these poor fruits from deadly diseases! From now on, their lives are entirely dependent on you. The goal of this entertaining 3D food game is to treat the fruits. They're knocking on your door, frightened. Each has its own set of issues. To apply the treatments, use your mouse or the touch controls. The process is visible at the top of the game screen. When it's their turn, the tools will arrive. All you have to do is drag the mouse or swipe your finger in the direction of the arrows. Each treatment will reward you with money and coins. Upgrade your clinic from the in-game shop with your money! After you've improved your business a little, you might be able to create your own hospital. Good luck and have fun!
Do you want to play more games like this one? If so, take the different challenges in our collection of free and online food games.
Developer
BPTop developed Fruit Doctor.
Release Date
September 2, 2021
Features
3D colorful graphic
Updating the clinic from the in-game shop
Several levels to complete
Fun and addictive gameplay
Controls
You can use your mouse or the touch controls to play this game.