Play Now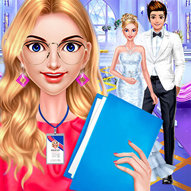 The best Wedding Planner is you, according to the rumors as we heard! The most special occasion of the year is about to begin, but no preparation has been made so far. That is why the groom and bride to be, need your help to express their love in front of the witnesses and have a happily ever after. Can you do what it takes to make this day unforgettable?
This is a love story that will never be erased from the memories... But to make it to eternalize this moment, we gotta plan the perfect wedding together! Well, not only the wedding but the bride and the broom too. Because as you will see, the stylist didn't show up and the job is all up to you now. To let it start, apply the best fitting make-up style on our bride's beautiful face first. Then you should choose the wedding dress, designed uniquely for her. She will definitely make the groom cry out of happiness with that look. Speaking of the groom... You should also choose a charming wedding suit for him. Perfect! Now, it is time for saloon organizing! Put the chairs, decorate the environment according to your own taste in esthetic. You can even change the background if you want! Lastly, decorate the wedding cake giving the vibe of your decoration style. Great job!
Don't forget to check our collection of free and online skill games to browse more fun titles like this game.
Developer
ozigames developed this game.
Release Date
July 1. 2020
Features
2D colorful graphics
4 stages to complete
Decorating, dress up and make-up parts
Entertaining gameplay
Controls
You can use your mouse to play this game.