Play Now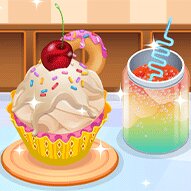 Yummy Waffle Ice Cream helps you discover the satisfaction of creating the perfect waffles! Complete all three detailed steps in a kitchen built just for waffle-making! Learn the crucial steps to this delicious dessert with small memory games!
Finish short puzzles, find the necessary ingredients, and bake the waffle you dream of!
You can see the three steps waiting ahead. We will start by mixing the ingredients, then baking, and finalizing your waffle by adding ice cream as one last step! Start with the mixing part and find the ingredients on crowded shelves. Follow the items you see on the left and mark them. Then inspect the order they are supposed to be put and memorize this recipe to continue the process without any incidents. Ready the dough for baking and pour it in equal amounts into the waffle maker. Earn achievements by completing the steps precisely. Decorate your waffles with different flavored ice creams, sauces, candies, and frostings. Add fruits or chocolate and decide between lovely plates to bring out the tasty colors! Serve your delicious creation to see it on a table in its final form! Play again to unlock new achievements and try different decoration combinations!
If you like cooking delicious desserts, you can check out Yummy Cupcake and cook the best cupcakes!
Developer
iclickgames developed Yummy Waffle Ice Cream.
Release Date
January 13, 2022
Features
Easy to play
Improving memory skills
Fun for all ages
Decoration options
Available on mobile devices
Controls
You can use your mouse to play this game.