Play Now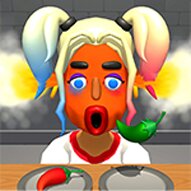 Eat up all the spiciest peppers in Extra Hot Chili 3D! As the biggest fan of hot peppers, you have entered a challenge. This challenge introduces a new level in the hot pepper game. As sure as you are of your own hot pepper threshold, you must prove it in this challenge. So, get ready to eat up any pepper that comes!
In this fun game, you must feed your character with a certain number of peppers. At each level, your aim is to complete a pungency level and pass it onto the next level successfully. You should eat red, green, and yellow peppers one by one to fulfill these pungency levels. At each level, the way you pick up the peppers and feed your character changes. This means you will have the chance to play a series of mini-games. In many of these mini-games, you will have to pick the peppers from the other edible or inedible things. Be careful though, when you are trying to fill up the pungency level, those other things will drop down this level. So, now relax and play a series of fun mini-games all revolving around spices and peppers!
If you enjoyed playing Extra Hot Chili 3D, you should check out our collection of free and online food games here.
Developer
YAD.Com developed Extra Hot Chili 3D.
Release Date
October 18, 2021
Features
• 3D colorful graphics
• Fun and addictive gameplay
• Hot chili peppers!
• Series of mini-games
Controls
You can use the mouse for the control and to play the mini-games.