Play Now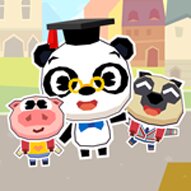 It's time for the kids at Dr. Panda School to enjoy a lot of fun! They are not only there to study, but also to spend quality time with our animal friends. Dr. Panda is delighted to meet each and every one of them! In no time, you'll be engaged in this adventure, visiting all of the rooms with animal classmates. Enjoy delectable meals, explore the lab, and make new friends. Are you ready? Then let's get started right away!
Are you ready to go to school with Dr. Panda and his friends on the first day? It's going to be awesome! The cantina, classrooms, labs, halls, and kitchen are all available for exploration. To socialize with your new friends, all you need is your mouse or touch controls. The characters and all of the things can be interacted with by clicking or tapping on them. Feed the students, attend lessons with them, and learn a lot while having a good time. Different goods, such as clothes, will be waiting for you in each room. You can help them in getting dressed, reaching for toys, and turning on the television. There's even an area where you may draw, paint, and build toys to make the game even more enjoyable! You can now learn the shapes much more quickly! Have a good time with your new friends here!
Do you want to play more games like this one? If so, take the different challenges in our collection of free and online kids games.
Developer
Dr. Panda LTD developed Dr. Panda School.
Release Date
September, 2021
Features
2D colorful graphics
Interactive objects and characters
Various rooms to discover
Educational and fun gameplay
Controls
You can use your mouse or the touch controls to play this game.