Play Now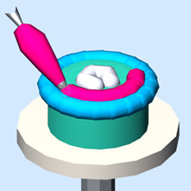 With Icing on the Cake, get ready for an exciting cream icing competition against other players! This fun and online skill game will make you sit in front of the screen for hours of fun. You won't believe how many creations you can make only by using your mouse or finger. Grab all the cake decorating tools and various colors of creams to get to work now!
Welcome to a worldwide competition in which you are going to be tested for your eye coordination skills! The only thing you should do to break the records is to decorate the cake with delicious and colorful creams according to the original picture given at the right top corner of the game screen. But you gotta hurry! Because you should be the fastest player on the platform, who completes icing the cream with the most similarity rate. Click on the play button and start the game. Then you will see the original picture that you should follow at the right top. Choose the creams by clicking on the buttons, given under your cake. Hold clicking to extend the cream, and once you leave no empty spot, the spatula will appear. The last work you should do is scooping the cream with your spatula to pass the level. You can see your similarity, timing, and worldwide timing results on the screen. Good luck and have fun playing!
Don't forget to check our collection of free and online skill games by clicking here to browse more fun titles like this game.
Developer
YAD.Com developed this game.
Release Date
September 17, 2020
Features
3D colorful graphics
Online competition
Timing and similarity records to achieve
Simple controls
Controls
You can use your mouse to play this game.