Play Now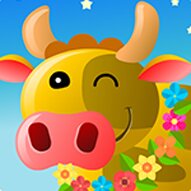 With Happy Village Toddlers, get ready to have lots of fun while learning the numbers, letters, and so on! Education has never been this much fun before! You can enjoy 10 different educational games with our cute animal friends. Improve your singing skills, learn delicious recipes after class and get ready for school by practicing the courses. What do you say? Are you with us on this amazing adventure?
Happy Village Toddlers is a collection of educational games where your kids can practice basic courses. There are 10 different games that they can enter. Each one is helping a specific subject like math, language, animals, shapes, and many others. There are also 13 different game modes with different courses. The game is an additional help to prepare for school education. The kids can improve their English by observing and listening. For specific exercises, it is better to volume up the device so that they can get used to the voices and learn better. With cute characters and an engaging theme, the kids will love this adventure. Because of this game's educational nature, it can be very useful for kindergartens and schools as educational software and tool. They can observe, and repeat, and learn faster by entering this solo link!
We have another adventure that kids love playing! Be sure to check Dr. Panda Airport by clicking here to meet Dr. Panda and his friends!
Developer
Digi Smile limited developed Happy Village Toddlers.
Release Date
August 3, 2021
Features
3D colorful graphics
More than 100 games to play
Education support on different fields
Fun and engaging gameplay
Controls
This game can be played by using the mouse or the touch controls.