Play Now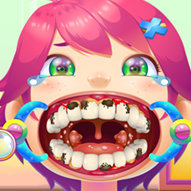 In Funny Throat Surgery, your great skills are needed to help this poor girlie, doctor. Your patient is in some serious pain and needs treatment right now. We heard that you were an expert in your field. Can you help us?
Doctors have one of the most respected professions in the whole world and with good reason. It's a challenging job for sure but considering the respect you earn from your patients, it's definitely worth it. Now, this girl has come for your help. She's suffering from a severe throat infection and it's your job to make her feel healthy again. There are 3 tasks that you need to complete. Let's start with the first one. You have to scrap the black crust, remove dental plaque, clean the blood, and make a salve for quick relief from gum pain. Nailed it! Now on to the second task. Click on all of the germs to get rid of them, cut the tonsils, and done and done! You completed the surgery successfully. Now it's time to dress her up to make her feel awesome again. Style her hair, try on glasses, choose a headband, and face stickers. Voila! She's glowing up. And she's really thankful that you healed her.
Your skills have proved useful here. But there are other patients that need your help in our collection of online and free girls games. Check our collection to browse more titles like this one. Enjoy!
Release Date
July 23, 2019
Features
Colorful graphics
3 tasks to complete
Achievements to unlock
Easy controls
Controls
Use your mouse to play.