Play Now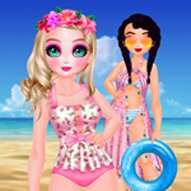 In Princess Kawaii Swimwear, summer is here! Now, it's time to hit the beach, enjoy your time under the sun, and swim until the sun goes down. Our princesses have planned this vacation for a long time and they are really looking forward to it. Do you think you can become their fashion stylist on this vacation and dress them up in the style they want?
When summer comes, everyone takes their prettiest dresses and hits the beach to let the summer fashion begin. This year, these two characters chose to try the Kawaii style. Since they are no experts in this when it comes to this style, they want to find someone who is. Are you up for the challenge? If so, let's go now. You only need your mouse to play this game. Start dressing up the first girl and then move on to the other. First things first! Apply lipstick, blush, mascara, eyeshadow, and change the color of her eyebrows. Now, you can style her hair and even change its color. The next step is the dressing up part. There are all sorts of clothes and colors in the wardrobe. After you choose the one you want, choose an appropriate pareo that will go with her outfit. No beach outfit can be complete without sunglasses, hats, and beach accessories. When you are done choosing high heels and accessories, move on to the other character. Have fun playing!
If you want to explore this style even more, play Princess Sweet Kawaii Fashion now. Enjoy!
Developer
DL-studio developed Princess Kawaii Swimwear.
Release Date
July 20, 2021
Features
2 princesses to dress up
Easy controls
Colorful 2D graphics
Fun and addictive gameplay
Controls
You can use your mouse to play this game.