Hello Kitty & Friends Jumper
Play Now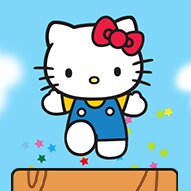 In Hello Kitty & Friends Jumper, be ready to meet the cutest kitty and her friends! Because we are jumping into an amazing adventure! You will collect lots of points, unlock new skins, and have so much fun! You just need to really concentrate on the screen to be successful in this game! Are you ready to test your hand-eye coordination skills? Have fun!
Do you know that Hello Kitty first appeared in 1976? Yuko Shimizu created Hello Kitty, which was added to the Sanrio character lineup in 1974. The character first appeared on a Japanese vinyl coin purse, where she was portrayed seated between a bottle of milk and a goldfish dish. And now she is on your screens! Your goal in this game is to jump as far as you can and earn as many points as possible. This cute little girl enjoys jumping from one piece of wood to the next. That is why the thick sticks never stop arriving. To make Kitty jump, use your mouse or touch the screen. You can make combinations if you manage your time and ensure that the sticks are mounted in alignment with each other. You can unlock new skins and environments from the in-game shop based on your scores. All you have to do is reach the specified number of trophies under the characters and backdrops. Best of luck, and have a great time playing!
If you want to play more skill games, and try another one similar to Hello Kitty Jumper, then be sure to check Stacky Run, too.
Developer
Sanrio developed this game.
Release Date
August 2, 2021
Features
2D colorful graphics
Cute characters and a backstory
Different skins and backgrounds to unlock
Fun and engaging gameplay
Controls
You can use your mouse or finger to play this game.