Play Now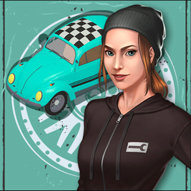 In Car Girl Garage, Miriam decided to reopen her grandfather's garage, and she needs your help. The place is in bad condition, but when you two work together, you can show the city that you're the best mechanics. Can you get back in the business?
People trust mechanics to fix their cars, and the residents of this city are no different. Your objective in this game is to improve your garage and complete multiple levels. You can play the game with your mouse, so no need for actual mechanical skills! When you first enter the game, Miriam will greet you. Introduce yourself by writing your name, and say welcome to your first ever customer! Each customer will come with a different problem. To fix their cars, you need to use the correct tools! Look at the right side of the screen, and you can see the silhouettes of the tools you need. Look around the rack to find them, and then follow the instructions on the screen to fix the problem. As you complete levels, you'll earn coins. These can be used to purchase new items from the in-game shop, so keep on working! Enjoy!
Check our collection of free and online girl games to meet more influential and talented girls! Have fun playing!
Developer
Sakura Games developed Car Girl Garage.
Release Date
November 10, 2020
Features
Colorful 3D graphics
Multiple levels to complete
Can customize your garage with different items and decorations
Intuitive controls
Entertaining gameplay
Controls
You can play this game with your mouse.