Instagirls Valentines Dress Up
Play Now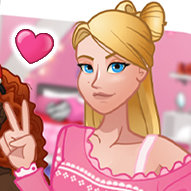 In Instagirls Valentines Dress Up, Valentine's Day is around the corner, so we need to help instagirls get ready for this special day! That time of the year has come again, so everybody is in a rush to get ready for it! Can you help our three instagirls get ready? Have fun!
We call a girl who is very popular on Instagram, Instagirl. So, in this game, we have 3 girls who need to get ready for Valentine's Day and they need to share these outfits on Instagram to get money! Will you able to help them? Then start the game and choose your girl! Your objective in this game is to create outfits, but you cannot create them as you wish, you will see a hashtag button on the left bottom screen, click it and check out the themes that you need to follow. There are various choices in their closet, but if you don't follow the themes, nobody likes the post, and she cannot earn money! So, your first target is to give her a cozy style. You will the pieces when you click on the hashtag. Try to find these pieces in her closet to create the most appropriate outfit. After you complete the first, you will upload the post on Instagram and as people like it, she will earn money to buy new things. This will continue like this until you complete all the outfits. Have fun!
If you want to play more girls games, and try another one similar to Instagirls Valentines Dress Up, then be sure to check Instagirls Christmas Dress Up, too.
Developer
Agame developed Instagirls Valentines Dress Up.
Release Date
February 1, 2021
Features
2D graphics
Dress up game
Instagram inspired game
Various aims to complete
Controls
You can use your mouse to play this game.