Play Now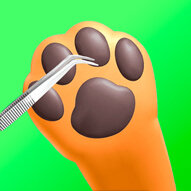 Paw Care invites you to be a veterinarian in the best way you can ever be! You will be treating not only the paw problems but also some other injuries in this fun animal game. As the best vet in the city, your doorbell never stops ringing. More and more animals each day! What can a day go better than treating more animals, you think? If you agree, click on the play button and start the game!
We see animals hurt every day, unfortunately. Today, we will give them a hand and help them get better! Our little friends have some problems with their paws, and they need you to get rid of these problems. Featuring 3D high-quality graphics that will drag you veterinarian simulation and different species of animals to be treated, you are gonna so love this adventure! You need only your mouse or finger to help them get better. While treating our friends, you can decorate your clinic with various items of furniture as well. With each treatment, you will earn money in the game and you can use them to buy items and improve your clinic. That's what they call to enjoy the best of both worlds! These animals may have some more complex problems, though. So, you should be gentle while doing your job. Good luck and we trust you with all our hearts!
Don't forget to check our collection of free and online girls games by clicking here to browse more fun titles like this game.
Developer
YAD.Com developed Paw Care.
Release Date
February 8, 2021
Features
3D high-quality colorful graphics
In-game clinic decoration
In-game shop to visit
Various species of animals to treat
Controls
You can use your mouse to play this game.