Play Now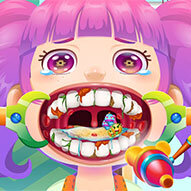 In Funny Throat Surgery 2, you have another patient who needs your magical hands! Since you are the best surgent in the town, the ball of your door never stops ringing. Today, you have the cutest patient ever. This little girl needs your help with her throat and oral health. Her condition looks a little bit serious, but we are sure it is nothing you can't handle! If you are ready now, let's get it to work doc!
You are the best of your job! No diseases or viruses can stand in front of you when you have enough equipment! Luckily, you have everything you need in this fun surgery game! This little girl is very sick from her throat. You should do what it takes to treat her. The first stage of the operation is oral health. Since she doesn't like brushing her teeth, the germs are all over her mouth! Help her get rid of the germs by cleaning her mouth. The second stage is the most important one. What you are going to do is surgery. Cut the unwanted part from her throat and sew the cut. All you need is to click or tap on the tools and drag them in the direction that guidance arrows show. At last, it is time to give her a new look! She looks amazing!
Feeling in the mood to treat another patient now? If you are up for another surgery, then be sure to check Funny Bone Surgery.
Developer
iclickgames developed Funny Throat Surgery 2.
Release Date
September 8, 2021
Features
2D colorful graphics
3 stages to complete
Simple controls
Fun and engaging gameplay
Controls
Fun and addictive gameplay.