Play Now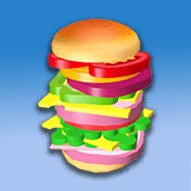 In Hamburger, fire up the pans on the stove, we have many orders for you! Featuring nice 2D graphics and fun gameplay, this game will make you channel your inner chef. Do you think you will be able to make the best hamburgers in this puzzle game?
Feeling hungry? Why don't you make delicious hamburgers that will make your mouth water? The thing is, when we say make, we don't mean cooking. You don't need to have cooking skills to play this game, all you need to do is solve the puzzles. A feast for your eyes and a workout for your brain, this game sure has it all! There are multiple levels you need to complete, so let's start now. At each level, you need to put the ingredients on top of each other in the correct order. All of the ingredients are scattered on the table. Click on one of them to move the ingredients and bring them all together. You have cheese, tomato, lettuce, and many other ingredients that will make a finger-licking good hamburger. Keep in mind that the last two ingredients should always be the burger buns. If not, you will have to try all over again. You will earn money after you finish each level and you can use this money to unlock new ingredients. Bon appetit!
If you are looking for more delicious games like this one, head to our collection of online food games by clicking here. Enjoy!
Developer
BPTop developed Hamburger.
Release Date
June 23, 2021
Features
Unlockable new ingredients
Many levels to complete
Fun and addictive gameplay
Colorful 2D graphics
Controls
You can use your mouse to play this game.