Play Now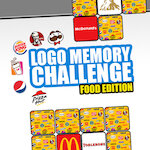 In Logo Memory Challenge: Food Edition, it's time to put your knowledge of logos of different fast-food chains into a test. It's not hard to remember to order extra large fries in one of these chains, but flexing your mind muscles won't be a bad idea. Can you pair up the names and the logos of these different places as fast as you can?
How hard could it be to remember the icons of these places when they're always in your eyesight? Your objective in this game is simple. You try to match the name of the places with the correct logo as fast as you can. You can play this game with your mouse, so it's as easy as ordering a cup of coffee with extra cream! Click on the play button on the main menu to start. Then select the first level. There are 30 different levels in this game, but you unlock them one by one by completing the available levels. Levels become increasingly difficult, as more cards will be added with each level. Click on a card to flip it over and see what's on it, then click on another. You complete a level when you pair all the cards and clear the board. At the top of the screen, you can see your timer. The faster you complete the level, the more stars you can earn. Good luck!
Feeling peckish? Keep yourself busy until the dinner is ready with our free food games by clicking here. Have fun!
Developer
Playtouch developed Logo Memory Challenge: Food Edition.
Release Date
May 6, 2019
Features
30 different levels to complete
Entertaining and addictive gameplay
Intuitive controls
Different logos of famous places to find
Controls
You can play this game with your mouse.