Play Now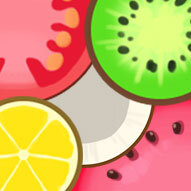 Merge Fruit and enjoy a juicy fresh matching adventure for hours of fun! Grab all the fruits and sweets you find around because this game will make crave these colorful fruits! You are only one step beyond to break your own scores and beat the global players addicted to this adventure. If you are ready now, get your eyes wide open and let the fruits rain through the screen!
You are invited to a big challenge madames et monsieurs! There is a golden cup at the end of it and it will go to only one player on our beloved platform! It is going to be so much fun! Your only job is to merge the same fruits and enjoy this craze. Click on the play button to get it to work! When the game begins, you'll see one fruit at the top of the screen. Click on the screen and let it drop. Once the fruit falls, you'll see another one in the same place. Your objective is to merge the same ones by trying to make them fall in the same spots. To do so, you can determine the point that you want the fruit to go and click. As the screen gets filled, you'll see a red line that indicates the last spot you can fill the fruits. If you cross it, the game is over. Good luck!
Be sure to check our collection of free and online puzzle games by clicking here to browse more fun titles like this game.
Developer
LoraStudio developed this game.
Release Date
March 15, 2021
Features
3D colorful graphics
Global scoring
Fruit merging adventure
Fun and engaging gameplay
Controls
You can use your mouse to play this game.