Play Now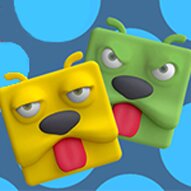 Super Heads Carnival is about to start! Prepare for a thrilling match against a friend or the computer! You may put your abilities to the test in four different tasks while having a great time. To beat your opponent, all you need is a keyboard! You can find your way through the challenges and show your abilities by winning the rounds. Let the game begin if you are ready!
Now Carnival is start! You will be in charge of a small, tiny head in this entertaining game collection. You can choose from four different adventures. You may either grab a friend and use your talents to destroy them, or you can battle against the computer. To play two-player competitions, select the vs. Mode option. Air hockey is the first adventure. To win the game, you must score 5 goals. The chicken chase is the second competition. The contest is won by the player who collects the most chicken. The third competition is all about how good a cook you are. Make the judges pleased by providing them with the proper ingredients for tasty hamburgers. The final battle is to get away. A monster exists who defies gravity. Avoid obstacles and flee for as long as possible. Don't forget to check your total score from the main menu! Have fun!
Do you want to play more games like this one? If so, take the different challenges in our collection of free and online 2 player games.
Developer
Mad Buffer developed Super Heads Carnival.
Release Date
July 19, 2021
Features
2D colorful graphics
1 player and 2 player modes
4 adventures to enjoy
Fun and engaging gameplay
Controls
You can use your mouse or finger to play this game.