Play Now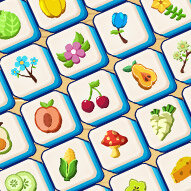 Tile Mahjong invites you to an amazing match-2 game with ultimate fun! If you are familiar with the mahjong adventures, this will open your appetite even more. With lots of juicy and delicious fruits, you will not be able to leave the screen once you enter the game. If you are ready to jump into this adventure now, let the game begin!
Before you start the game, we recommend you fill your stomach. 'Cause this game will increase your sweet teeth more than ever! In this fun adventure, your objective is to combine the tiles with the same fruit pattern. Your biggest challenge during the game is that you have limited time to complete the levels. The tiles may be decisive because some patterns look like each other, but they are different. You can track your remaining time from the top of the game screen. At the right of the time bar, there is a button with which you can stop the game. At the bottom of the game screen, you can see the shuffle and hint buttons. You can shuffle the tiles as many times as you want. Also, the hint button doesn't have a limit either. When you run out of time, the game is over, but you can play the game over and over again. Good luck now and never give up!
Never get tired of playing with the juicy delicious fruits? Then we have the best game for you! Be sure to check Merge Fruit by clicking here and enjoy your treats!
Developer
RedFoc developed Tile Mahjong.
Release Date
April 21, 2021
Features
3D colorful graphics
Various fruit patterns to combine
Time limit to race against
Unlimited shuffles and hints
Controls
You can use your mouse or finger to play this game.