Play Now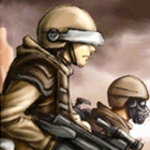 In Humaliens Battle, the humans and aliens are at war, and you need to pick a side. With their advanced units and technologies, each side is a force to be reckoned with. You're the only one that can change the tides of war. Are you ready to take part in this war and command units?
The universe is endless, but it's not big enough for both humans and aliens. Your objective in this game is to pick a side and defeat your opponent through many different levels by sending units to their base and destroy it. You can play this game with your mouse. To start, click on the new game button on the main menu. On the next screen, pick either the side of the humans or the aliens. Each has unique units and vehicles. After choosing a side, pick one of the 4 different campaign maps. You play in 3 different areas, and these are the sea, air, and land. These maps have a different combination of these three areas. Then pick a level, and press start battle button in the bottom right corner. Click on the different unit images to train and send them to your enemy. At the bottom sides of the screen, you can see the health of both yours and your enemy's base. Each unit requires points to be trained, and you earn those by killing enemies. Good luck!
Be sure to check our collection of free strategy games for more games like this. Have fun!
Developer
Arief Raditya developed Humaliens Battle.
Features
Colorful 2D graphics
13 different medals to earn
Intuitive controls
Different campaigns with different levels
Various types of units to use
Controls
You can use your mouse to play this game.