Play Now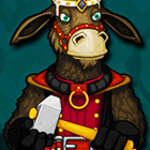 In Jacksmith, take control of the country's most talented blacksmith and start creating swords for the soldiers! Enemies and dangerous creatures are everywhere and the soldiers need sturdy weapons. Work the smithy and make sure all of your weapons are in perfect condition! The fate of the battle lies in your talented hands.
The heat coming from the smelter might be unbearable at times, but every profession requires patience. The main objective of this game is to create strong weapons for the soldiers to make them beat the different enemies they encounter. Start the game by clicking on the play button on the main menu and pick a save slot. At the start of each day, your assistant will come and give you information about how many enemies are in the area. You should plan your work according to this. When a soldier approaches, click on the icon on them to take their order and the start building the sword. First, choose and ore and then melt it. Once it's ready, you can pour it into the mold. Next, hammer the weapon to increase its stats, and continue with adding the handle. After you complete every order, you can watch the soldiers fighting the enemy. Their success depends on your work. Slain enemies drop rare metals and other bınus items, so don't forget to collect those. Good luck!
If you enjoy playing this game, why not play another game of the same developer, Papa's Bakeria? Have fun playing!
Developer
Jacksmith was created by Flipline Studios.
Release Date
2012
Features
Many ingredients to collect
Different weapons to create
You can earn badges
You can find epic weapon designs
6 different ores to use
Controls
Use your mouse to play the game.