Play Now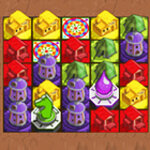 In King's Guard, the Dark Horde is marching towards you, and only you can stop them. Take your heroes to the battlefield, defend your walls, and show these monsters that they can't win this war. Do you have what it takes to complete multiple levels in this game?
Your heroes and guards have taken their place on the defense lines, and they're ready to confront the enemy. Your objective in this game is to complete each level by defeating every enemy in them and protecting your town from their attacks. You can play the game with your mouse. On the left side of the screen, you can see the battlefield, your heroes, and the approaching enemies. Your heroes will fight against the monster on their own, but they'll take damage, and it's your job to heal them. To do that, you can look at the right side of the screen. Each hero has a color tied to them, and matching 3 or more of the same colored tiles will heal them. Matching 4 or more tiles will give you a special attack. You can also match different guard tower icons to summon guards to help your heroes. When you complete a level, your heroes will gain experience. You can purchase new and improved items for them and sell the items you don't need. Have fun and good luck!
More games like this await! Check our collection of free and online strategy games by clicking here. Enjoy!
Developer
IriySoft developed King's Guard.
Features
Colorful 2D graphics
20 different achievements to earn
Multiple levels to complete
Intuitive controls
Entertaining gameplay
Controls
You can use your mouse to play this game.