Play Now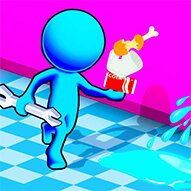 Take control of a shopping center and clean around to earn money with Mall Service! Run errands, fix broken stuff, and pick up garbage! Sell rubbish to make money and use that money to add new stores to your mall! Attract more people to your place and collect their trash to make a fortune!
Take care of the tiniest details of your shopping center with this addictive game! Pick up the unwanted rubbish, mop the floor, and repair broken electronic devices to serve your customers better! Turn your work into money and open new stores to lure more customers. Start with cleaning the hall to make some money and buy your first shop. This way, more people will rush in, leaving you more trash to collect. Save more money before opening more shops and upgrade your stats. Adding some points to these skills will grant you higher movement speed and income. Increasing your income before taking your first steps will help you earn faster. Use every chance to make more cash; keep an eye on the workout equipment and digital devices! Don't stop running your legs and work like a bee to become a business master with a fully-operating mall!
If you like this addictive management adventure, you can check out Restaurant Rush and operate your dream place!
Developer
Andy Games developed Mall Service.
Release Date
August 2, 2022
Features
3D graphics
Unlockable features
Increasing management and strategy skills
Fun for all ages
Available on mobile devices
Controls
You can use your mouse to play this game.