Play Now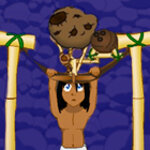 In Meteor Launch, go and help a young man to send a star back to the skies. While stargazing during the night, the young man witnessed a meteor falling. Thinking it's a fallen star, he decided to send it back to the skies with the help of the local medicine man's devices. Roll up your sleeves, and help this man achieve that!
No one's gonna tell him that meteors are not stars, so it's best to help him. Your objective in this game is to launch the meteor back to space in the shortest possible. You can play this game with your mouse, so click on the play button on the main menu to start. The medicine man will provide you with a simple launcher, but you can purchase more upgrades from him later on. Try to collect as many blue fireflies as you can, because these glowing bugs are the only currency that the medicine man accepts. You can buy 7 different upgrades, and each of them has 5 levels. Click and hold on the screen start your engine, and double click to activate your boosters. Yellow fireflies boost your speed, but red ones explode and damage you. You should also avoid hitting birds, as they'll deal damage too. Have fun and good luck!
For more games like this one, be sure to check our collection of free strategy games. Enjoy playing!
Developer
Matt Solakszczuk developed Meteor Launch.
Features
Colorful 2D graphics
16 different achievements that you can earn
7 different upgrades that you can buy
Intuitive controls
Entertaining and addictive gameplay
Controls
You can play this game with your mouse.