Play Now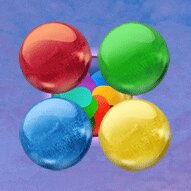 In Microsoft Bubble, the game genre that took over the world returns again with a new version. Featuring colorful 2D graphics and addictive gameplay, this bubble-shooter game will lock players of all ages in front of the screen for hours of fun. Are you ready to discover the colorful world of bubbles?
Look up at the sky! You will see bubbles filling the sky and causing beautiful colors. These vibrant colors may be beautiful to look at, but you know what else is fun and beautiful at the same time? Popping them! In this puzzle game, your objective is to pop 3 of the same colored bubbles and clear the board. There are 3 different worlds you can check out. The first two worlds are available at the beginning of the game, but the third one is unlocked after earning enough stars. Start with the first level and fire the bubbles at the correct places. Bounce your bubble on the side, aim for the skies and keep going until none remains. You only have a limited number of moves which you can see on the bottom of the screen. Try to finish each level as quickly as you can to earn 3 stars. Collect coins and spend them on boosters if the game gets too challenging for you. As the game progresses, you'll face more challenges and obstacles. Have fun playing!
If you are looking for more games like this one, you can check out our collection of online bubble shooter games by clicking here. Enjoy!
Developer
Microsoft developed Microsoft Bubble.
Release Date
June 03, 2021
Features
3 different worlds to complete
Boosters to buy
Many different game modes featuring new obstacles
Colorful 2D graphics
Controls
You can use your mouse to play this game.