Play Now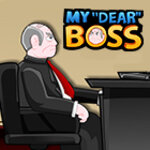 In My Dear Boss, take control of a hard-working designer whose work is not appreciated by his stubborn, mean, and grumpy boss. This rude man thinks he can mock and insult you just because he's your boss, but it's time to show him that things can't continue like that. Are you ready to teach your boss a valuable lesson?
Working at a day job might not be fun, and having a difficult boss would surely make it unbearable! Time to stand up to your mean boss! The objective of this game is to throw your boss from the office and try to make him travel as far as he can with your powerful kick. You can play the game with your mouse, so click on the new game button on the main menu to start the game. When you begin, you'll see a power meter on the screen. Try to click on the kick button when the arrow is on the middle part for the most powerful kick. As your boss flies through the window and to the street, he'll bounce off from various objects such as cars. At the bottom of the screen, you can see the distance he travels. When he stops, you'll earn points, and can spend these to buy upgrades and items from the in-game shop. Good luck and have fun!
We think you might like our other game, Ragdoll Achievement 2 too. Enjoy!
Developer
Agame developed My Dear Boss.
Release Date
April 27, 2017
Features
Colorful 2D graphics
18 different upgrades with multiple levels to unlock
8 different item that you can buy from store that'll increase your stats
20 different achievements to earn
Entertaining and hilarious gameplay
Simple controls
Controls
You can use your mouse to play this game.