Play Now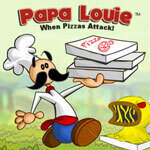 In Papa Louie: When Pizzas Attack, things are about to get saucy! The famous chef didn't expect his delicious pizzas to become monsters and kidnap his loyal customers. Trapped in a weird realm, these customers need Papa Louie's help to be saved from their cages. Wear your chef's hat, and show those cheesy monsters who the boss is!
Some say carbs are bad, but who would've guessed that a delicious pizza would turn against you? Your objective in this game is to complete each level by saving the trapped customers in the realm of pizza monsters. It's hard to resist taking a bite from a freshly cooked pizza, but the controls of this game are pretty simple. Click on the play button on the main menu to start the game. You can control your character with the arrow keys. Move towards in each level, and try to beat the enemies on your way. At the bottom of the screen, you'll see your health points, the number of coins you've collected, and the number of pizza boxes you need to gather. By attacking pizza monsters, you can make them hide in their boxes. You should collect these to be able to free your customers.
Now that things are settled down, you can open the shop once again! Go and play Papa's Pizzeria, and serve your customers the best pizza in town! Have fun!
Developer
Flipline Studios developed Papa Louie: When Pizzas Attack.
Release Date
November 9, 2006
Features
Variety of enemies to fight
Lots of levels to complete
Nice 2D graphics
Addictive gameplay
Controls
Use the arrow keys to move. Press the space bar key to jump. Press the Z key to hit enemies. Press the X key to throw a pepper bomb.