Play Now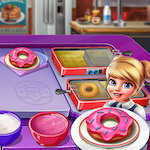 In Cooking Fast 2 Donuts, you must be the fastest chef in the city, because your customers are as impatient as they're hungry. You better start heating the oil and kneading the dough, because your shop will be filled with demanding customers soon. Can you pass all the levels by frying donuts?
We hope you can keep your chef's hat on your head in this rush! Your objective int his game is to reach the target profit on each level before running out of time. The kitchen is about to get heated, and a culinary challenge is waiting for you. But don't worry, because, with the simple controls of this game, you can prepare donuts in no time! You can play the game with your mouse, so click on the play button on the main menu to start. There are many levels in the game and you unlock them one by one as you play. First, place a plate on the counter and then click on a donut to start frying it. Keep an eye on the timer, as you wouldn't want to burn it! When ready, click on the donut again and then pick a topping according to your customers' order. Click on the donut to serve it. Have fun!
Can't get enough of these ring-shaped desserts? Then be sure to check the other popular title, Papa's Donuteria. Enjoy cooking!
Developer
Bofer Media (Twim Studio) developed Cooking Fast 2 Donuts.
Release Date
May 16, 2019
Features
Colorful 2D graphics
Intuitive controls
Entertaining gameplay
40 different levels to complete
Different donut recipes to prepare
Controls
You can use your mouse to play this game.