Play Now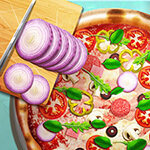 In Pizza Realife Cooking, wear your chef's hat, turn on the oven, and get ready to cook the most delicious pizza in the world. As one of the most loved dishes, pizza can have many different ingredients on it. Head into the kitchen and grab your knife to start cutting various ingredients to create the pizza of your dreams!
The dough is ready and your stomach is growling. You better start cooking right away! The objective of this game is simple and delicious. You have to cut various ingredients and place them on a pizza and cook it! You can play the game with your mouse. Click on food to place it on the cutting board and then click on the knife to select it. Then click on the food again to cut it into slices. When done, click and drag it to the bowl and start working on other ingredients. When you're done, use different bowls to decorate the pizza and place the toppings. Then it's time for the oven! Cook the pizza until it's done. Lastly, use different toppings such as parmesan cheese or fresh herbs to decorate the pizza, and you're done! Don't forget to take a photo of your delicious dish! Enjoy!
To create wonders in the kitchen, be sure to check our collection of online and free food games. have fun playing!
Developer
Sisi Games developed Pizza Realife Cooking.
Release Date
December 7, 2017
Features
Colorful 2D graphics
Many different ingredients to use
Can decorate your own pizza
Intuitive controls
Entertaining gameplay
Controls
You can use your mouse to play this game.