Play Now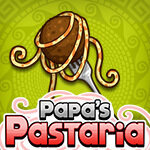 In Papa's Pastaria, it's time to cook everyone's favorite dish, pasta! Travel to Portallini, and get ready to keep the customers happy with your various and delicious dishes. Can you be fast enough to make sure each hungry customer leaves with a happy face and a full stomach?
Just like the other titles in this wildly popular and entertaining series, your objective is to prepare the orders of your customers correctly and earn tips to improve the restaurant. Cooking might be challenging in real-life for beginners, but the simple controls of this game turn this activity into a fun one. You can use your mouse to play the game. Click on the play button to start the game, select a save slot, and pick one of the two existing characters or create your own. You'll use 4 different stations to prepare the orders. In the order station, you write down the details of your customers' orders. In the next one, you cook the pasta to perfection. The next one is the one where you add toppings, and lastly, you have the bread station where you bake bread. Each day, you'll unlock new customers and ingredients, and even new recipes! Have fun playing!
Unleash your inner chef with our games in our collection of free food games. Bon apetit!
Developer
Flipline Studios developed Papa's Pastaria.
Features
Can create your own character
Entertaining and addictive gameplay
Different customers with different orders
Various ingredients and recipes to unlock
Intuitive controls
Controls
You can use your mouse to play this game.