Play Now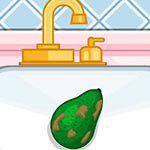 In Avocado Toast Instagram, it's time to make a delicious avocado toast that is Instagram-worthy. We're sure that you've seen an avocado toast on Instagram before. They're super popular and also super healthy. Do you want to find out how they are made? Play this game and see the recipe we have prepared for you!
Are you looking for a delicious and also awesome-looking breakfast idea? We have the answer for you! We're going to make an avocado toast together. We promise, it's going to be so good that even seeing it will make your mouth water. Let's begin then! First, start with washing your avocado. The controls are pretty simple and you can play the game only with your mouse. Then de-seed your avocado. Now, it's time to toast your bread. Choose how long you want to leave your toast in the toaster. Is it going to be 30 seconds or 60? You decide! Now, another decision awaits you. Do you want to mash your avocado or slice them? You know best so we leave it up to you! It's almost over. After you choose the toppings, choose the plate. Voila! You have made the best avocado toast ever! Oh, it's looking so delicious. It's the perfect time to join the trend, don't you think? Choose the background, get ready to take a picture of your breakfast and upload it on Instagram. Everyone will love it! There you go! Now you can eat this delicious toast. Bon appetit!
Its obvious that you're good at cooking! Play Pie Reallife Cooking now and prepare the most delicious fruit pie ever!
Release Date
June, 2018.
Features
Fun gameplay
Easy controls
Nice 2D graphics
Different tools to use.
Controls
Use your mouse to play this game.