Play Now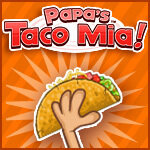 In Papa's Taco Mia, it's time to wear your apron and head into the kitchen! After winning the taco eating contest, your character owns a new taco shop! With so many customers waiting in the line, do you have what it takes to become the city's best taco shop with your delicious dishes?
Who doesn't love tacos? The residents of this city do, so it's time to open the business! Your objective in this game is not very different from the other titles of this popular series. All you try to do is to complete each day by reaching the target money by serving your customers the meals they order. You don't have to be a cook to prepare these dishes! You can use your mouse to play the game. Start by picking a character. There are 3 stations that you'll have to control. The first one is the order station where you take orders from your customers. The second one is the grill station, where you cook the meats. The last one is the build station, and you add different topping and sauces here. Every day you'll unlock a new customer and a menu item. You can also use your money to upgrade and decorate your shop! Keep your customers happy, and your shop will be the most famous place in the city! Enjoy!
Do you have room for a dessert? If so, go and play Papa's Bakeria next to satisfy your sweet tooth! Have fun!
Developer
Flipline Studios developed Papa's Taco Mia.
Features
Colorful 2D graphics
Entertaining and addictive gameplay
Intuitive controls
2 different characters to choose
various recipes to learn and prepare
Different items and customization options to unlock
Controls
You can use your mouse to play this game.