Play Now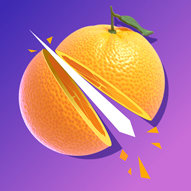 In Fruit Slice, it's time to cut some delicious fruits! Head into the kitchen, grab a knife, and be prepared for some juicing! With so many different fruits to slice, it's the best season for vitamin-rich fruit juice! Can you unlock all the fruits?
Some prefer to eat fruits as a whole while others enjoy a glass of sweet juice for a quick fix-me-up. Regardless of how you prefer to consume these sweet treats of nature, you'll be juicing them in this game. Your objective is simple and fun! All you have to do is to cut fruits into small pieces, so they can reach the juicer at the bottom of the screen in every level. You can play this game with your mouse, so no need to worry about cutting yourself. Each level has different obstacles that you need to tackle. You should cut the fruits in the correct size to make them fall through these obstacles and into the juicer. Keep in mind that you don't have unlimited moves. Check your moves from the top right corner, and try to juice all the fruits in a level without running out of moves. As you complete levels, you'll earn coins. These can be used to unlock new fruits from the in-game shop. Enjoy!
Hold onto your knife and head to our other popular game Fruit Master, by clicking here! Have fun playing!
Developer
BPTop developed Fruit Slice.
Release Date
November 23, 2020
Features
Colorful 2D graphics
Different fruits to slice
Entertaining gameplay
Intuitive controls
Different challenging level designs
Controls
You can use your mouse to play this game.