Play Now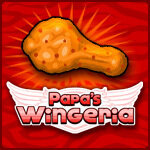 In Papa's Wingeria, the city of famous people Starlight City has a new addition, and you got the chance to work there. Wear your apron, and start frying the chicken, because the residents of this city are pretty hungry. Can you serve the best deep-fried wings in the city, and make this place as famous as the movie stars?
Everything is better when it's deep-fried. So let's head to the kitchen. Your objective in this game is to complete each day successfully by preparing and serving the orders correctly. You can play the game with your mouse, so click on the play button to start. Next, you can either pick one of the two premade characters or create your own. The character creator has many different customization options, so you can create yourself or someone you know! You have 4 stations in the game. In the order station, you take your customers' orders. In the fry station, you cook the wings. In the sauce station, you toss the wings into different sauces. Lastly, in the build station, you arrange wings and sides on a plate. Your customers will give you all the information about how they'd like their meal to be prepared. Pay attention to all the details to get the most points. You unlock new recipes everyday. Good luck!
Feel like cooking? Then head over to our collection page of free food games for more games. Enjoy!
Developer
Flipline Studios developed Papa's Wingeria.
Release Date
June 13, 2012
Features
Many yummy recipes
Diverse customers
Unlockable items
Plently of customization options
Controls
Use your mouse to play the game.