Play Now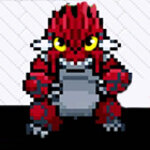 In Pokemon Tower Defense, show others that you're the ultimate pokemon trainer by collecting different pokemons, and sending them into battle with others. Visit professor Oak in his lab, pick a pokemon, and start your adventure now!
A mysterious duo attacked the lab to steal the rare candies. It seems like the evil plans of these two will not end, so you better prepare to fight. Your objective in this game is to complete each level by fighting different pokemons in waves. You can play the game with your mouse. When you first start, you'll visit the professor's lab to pick a pokemon. You can pick a fire, water or a plant type. As you fight other pokemons and weaken them, you can throw your Pokeball and catch them. By doing so, you can expand your team and become stronger. After each battle, you can level up your pokemons and unlock new moves. The game features 5 different levels. You start from the first one and unlock the rest one by one as you complete the story slowly. Can you ruin the plans of the Rocket Team, and stop them before it's too late? Enjoy!
Don't stop now! Protect a base, a treasure or other people in our games listed under our collection of free strategy games. Have fun playing and good luck!
Features
Colorful 2D graphics
5 different levels to complete
An interesting storyline
Entertaining gameplay
Controls
You can use your mouse to play this game.