Play Now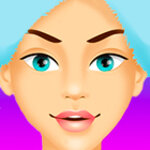 In Princess Makeover, get ready to visit the palace! The princess needs help, and as the best stylist in the kingdom, you're the only person who can give a royal makeover to her. Bring all the great dresses and accessories to her, and make her look gorgeous!
The princess is renowned for her beauty, but few know she has a good skincare routine, and a personal stylist. That being you, the princess called you to her palace to help her. The objective of this game is to complete all 3 stages. You can play the game with your mouse, so click on the play button to start. First, let's give the princess a facial. Click on the different tools on the screen to use them. Wash her face, apply a mask, get rid of pimples, pluck unwanted hairs, and she's glowing! After that, it's time for makeup! Apply eyeshadow, lipstick, and mascara to make her look amazing. Click on each of them to cycle between different colors. Don't forget to change her hairstyle too! Lastly, head into the dressing room, and pick a nice dress for her. Add some accessories to finalize the look, and she's ready to greet the guests! Have fun playing!
If you like this game, then we suggest you should check our other popular title, Enchanted Princess Makeup. Enjoy!
Features
Colorful 2D graphics
Simple controls
Entertaining gameplay
3 different stages to complete
A beautiful princess as the main character
Controls
You can play this game with your mouse.