Baby Hazel Ice Princess Dressup
Play Now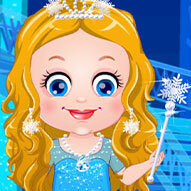 In Baby Hazel Ice Princess Dressup, it's time to join this cute baby for a night full of wonders. You see, before going to bed, baby Hazel made a wish. Just for a single night, she wants to be the Ice Princess. It would be cruel of us to deny her this one simple wish. As the fairy god mother, are you ready to join us and make sure this ball night is perfect?
It's time to wave your wand, sweet fairy. Wave your wand and turn this sweet little girl into the ice princess. The cold never bothered her anyway. Your objective is to find the perfect dress for the ball, do her makeup, and make sure she looks perfect. First, start with choosing her hair color. Great! Now we can move on to choosing the dress. Find matching jewels and give her a wand of her own. Choose the best shoes and get her a pet to accompany her. Wait, what are we forgetting? A crown of course! A crown that is worthy of her. Now you can do her makeup by clicking on the buttons in the middle of the screen. Apply lipstick, mascara, blush, and the other products. Bippity boppity boo! She is ready and she looks perfect. If you enjoy surprises, you can click on the second button on the right side of the screen and choose a random outfit. Change the background picture and you're done! Have fun!
This girl's adventures continue in Baby Hazel Kitchen Time. Enjoy!
Developer
Baby Hazel developed Baby Hazel Ice Princess Dressup.
Release Date
February 25, 2021
Features
Colorful 2D graphics
Intuitive controls
Nice 2D graphics
Many customization options
Controls
You can use your mouse to play this game.