Princess Sweet Kawaii Fashion
Play Now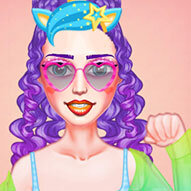 In Princess Sweet Kawaii Fashion, it is time to study teenage kawaii style with Princess Eliza! You will apply all the steps to make her prettier than ever today! Are you ready to spend your whole day with Princess Eliza? Have fun!
We are traveling to Japan to find out about Kawaii fashion! The word kawaii originally derives from the phrase "face aglow," commonly used to refer to flushing or blushing of the face. So, Princess Eliza is here to glow today! We need to guide her to teach her kawaii fashion better. Your objective is to get her ready from toes to top. First, you need to apply skincare to her. Clean her face, get rid of the acnes and tone her face then you can move on to moisturize her skin. Don't forget to use eye patches to calm her under-eye skin and pluck her eyebrows to make them flawless. When you think her skin is ready, you can apply her makeup! Don't hesitate to use bold colors, it is kawaii fashion! Apply her lipstick, blush, eye shadow, mascara to complete her makeup. Her makeup is limited only by your imagination! And the last step is to dress her up! Choose platform sneakers, boots with thick heels, and so on! Are you ready to find out about kawaii fashion? Have fun!
Do you want to play more games like this one? If so, take the different challenges in our collection of free and online girls games.
Developer
DL-studio developed Princess Sweet Kawaii Fashion.
Release Date
March 5, 2021
Features
Kawaii fashion game
Dressing up
2D colorful graphics
3 steps to complete
Controls
You can use your mouse to play this game.