Faboulous Dressup Royal Day Out
Play Now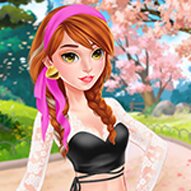 In Fabulous Dressup Royal Day Out, you should help this beautiful girl to look amazing! She planned a photoshoot with her friends today. They all want to increase their followers. She can even go to the solarium before taking photos. Help her look fashionable and fancy by putting on the make-up style and choosing the best outfits. Click on the play button to make her dreams come true!
It is time to improve this cute girl's social media account! Luckily, the weather is at its best too. With the warm wind that makes her hair wave, the photos will look amazing. In this fun girls game, your objective is to make sure this girl looks fabulous. Use your mouse to choose the best options for each category. The first stage is the make-up part. Select the color of her skin and choose the best option for each make-up tool. Click more than once to go through the options. The second stage is the dress-up part. The options are situated on the left side of the game screen. Don't forget about her new hairstyle, either! When she seems ready, move on to the last stage and make the shoot in front of a romantic place. Good job out there!
We have other princesses, teenagers, and stylists waiting for your help! If you want to help them out for their special days, then be sure to check Princess Kawaii Swimwear.
Developer
Lazy Bird Games developed Fabulous Dressup Royal Day Out.
Release Date
August 11, 2021
Features
2D colorful graphics
3 stages to complete
Make-up and dress up theme
Cute and fun backstory
Controls
You can use your mouse or touch controls to play this game.