Hello Kitty and Friends: Finder
Play Now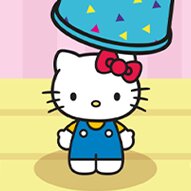 Hello Kitty and Friends: Finder invites you to a brand-new adventure with these cuties! We guess you have already met Hello Kitty and her best friends. If so, what about jumping into a new adventure with them now? All you will do is to find this little girl who is hiding in the cups. Do you have what it take to find Kitty and prove you are the finder master?
Playing with Hello Kitty and her best friends can never get boring. Luckily, they are here with you once again with a new challenge. Maybe you have seen this kind of challenge before but let us explain it to you a little. In this fun puzzle game, your objective is to find Kitty, who is hiding under the cups. When you start the game, you will have only a few seconds to see this little girl. Then, the cups will start to move. You should watch the cups that are switching places carefully in order not to miss your character. When the cups stop, click on the cup that you think it has Kitty underneath to open it. As you proceed in the game, the difficulty level will rise too. If you cannot find her two times, the game is over, and you will have to start from the beginning. Good luck!
Looking for another Hello Kitty adventure? You found it! Don't forget to check Hello Kitty Jumper by clicking here to play with our girl and her friends in another adventure."
Developer
Sanrio developed this game.
Release Date
September, 2021
Features
2D colorful graphics
No levels to pass
Intuitive controls
Entertaining gameplay
Controls
You can use your mouse to play this game.